YAMAHA 4 & 6 SEAT
G29 DRIVE GAS CARTS

4 Seat Golf Cart Rental
3 day Week Days (Mon-Thurs*) - $300.00
3 day Weekends (Fri-Sun*) - $375.00
7 Day Week Rental* - $650.00

6 Seat Golf Cart Rental
3 day Week Days (Mon-Thurs) - $400.00
3 day Weekends (Fri-Sun) - $475.00
7 Day Week Rental - $850.00
Equipped with: high quality light kits, new rear folding seats, new folding windshields, convex mirror, retractable seat belts, and loud horn.
* Excludes Holidays and Festivals.
3-day & 7-day, 4-passenger or 6-passenger Yamaha Golf Cart Rentals available by reservation only.
25 yr minimum with a valid driver's license.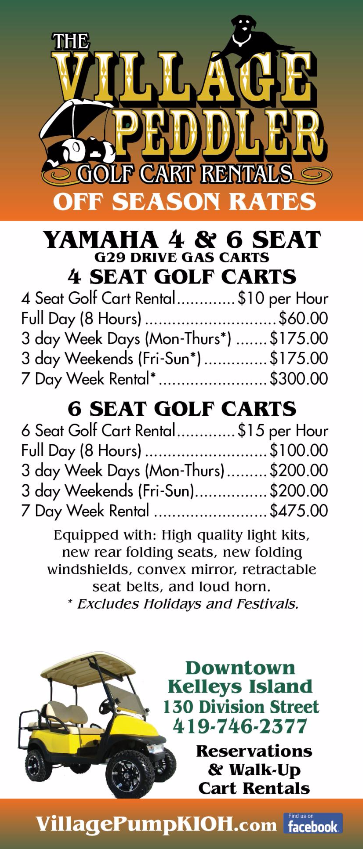 New For 2017! 6 Person Golf Carts
Available in 3 and 7 Day Rentals ~ Reservation Only
The Peddler Carts are located at 130 Division Street at The Village Peddler shop in beautiful downtown Kelleys Island Ohio.
Our carts are available in three and seven day rentals and by reservation only basis.
Explore our beautiful and history filled Kelleys Island. The Peddler Carts will help you get around the island to destinations such as the Glacial Grooves, beaches, our nature, restaraunts, winery, shopping destinations and where you feel like drifting away to.
Before you head out be sure to browse around The Village Peddler shop which is known for unique jewelry, clothing, and so much more. And while it's just around the corner, don't forget to stop and enjoy our food and spirits at The Village Pump, a family friendly destination since 1983. Serving up memories and free hi-fives for over three decades.
Places To Go
Download the Kelleys Island Chamber Brochure
Contact us at: 419-746-2377
Located at the Village Peddler • 130 Division Street